Manufacturer Relationships
When a solution doesn't exist, let's create one.
At Model 1, we thrive on finding creative solutions to our customers' toughest challenges. And where they don't exist, we help create them. By gaining a deeper understanding of those challenges, we go all the way back to the manufacturer level to solve them. From product creation to widespread distribution, it's through these manufacturer relationships that we all move the industry in the right direction: forward.
Model 1 and FOREST RIVER
quality manufacturing meets leading after-sales support
Right from the start in 2008, it was clear that a partnership between Model 1 and Forest River would give customers big advantages. Forest River's unparalleled production capacity allows them to fill customer orders for everything from Class A motorhomes to commercial buses, quickly and without cutting corners. And buying Forest River vehicles through Model 1 means access to the best pricing and after-sales support network.
Model 1 and BRAUNABILITY
INNOVATION IN THE WORLD OF ACCESSIBILITY
When it comes to helping customers solve for accessibility, our decades-long partnership with BraunAbility is indispensable. BraunAbility is far and away the best-in-class supplier for both wheelchair lifts and low-floor accessible minivans. Like all of our key partners their vehicles are built the right way, at a reasonable price, with a standard for quality that's unmatched in the minivan modification business. Together we've created and brought to market innovative new features and platforms that make transportation easier for everyone.
Model 1 and ENC
THOUSANDS OF CONFIGURATIONS AT CUSTOMERS' FINGERTIPS
One of our longest-running partnerships, ENC and Model 1 have grown and expanded together because of an unending desire to bring the very best options to customers everywhere. Nothing beats ENC's unparalleled design and virtually endless options, and they're all at customers' fingertips at Model 1 dealerships across North America.
Model 1 and ARBOC
NATIONWIDE DISTRIBUTION FOR AMERICA'S LOW-FLOOR BUS LEADER
When ARBOC designed an entirely new class of cutaway lightweight buses, we jumped at the chance to make them available at Model 1 dealerships across the country. ARBOC's commitment to low-floor designs accessible by ramp vs. lift has made them an in-demand industry favorite. And as a go-to for innovative ADA transportation options, Model 1 stands as a key distributor for ARBOC low-floor cutaways and Equess buses.
Model 1 and MARCOPOLO
bringing world-class marcopolo luxury to the U.S.
Keeping with our tradition of leading the way, Model 1 is proud to be the first distributor to introduce vehicles from Marcopolo to the North American market. Although the Marcopolo name might be somewhat unfamiliar here in the U.S., as the world's largest bus manufacturer, Marcopolo is no stranger to the transit industry. We're excited to bring these world-class luxury buses to a location near you.
featured COLLABORATIONS
It's not just about partnering with companies who share the same values as us at Model 1. It's also about helping create solutions for unmet needs in the commercial vehicle marketplace. Browse our key collaborations for real-world examples of what a partnership with Model 1 can produce.
"We couldn't be more thrilled to be a part of this program. Model 1's commitment to safety and quality are perfectly in sync with our mission to deliver the safest passenger seats in the market. When someone rides in one of these vans, they know no corners have been cut."
– Dan Cohen, President, Freedman Seating
"Model 1 is the perfect partner for us to work with to scale our operations in the U.S. Their existing infrastructure gives us access to an expansive and well-trusted sales and service network right out of the gate and sets us up in the best way possible to be successful as we build our presence here."
– Stefan Krause, CEO and Chairman, B–ON
"Forest River is thrilled to see Model 1's continued dedication to electric vehicles, and we're excited to deliver the first 1,000 E-Transit vans."
– David Wright, President, Forest River
INSPIRED TO COLLABORATE?
Let's start a win-win relationship together
Fill out the form to tell us about a relationship opportunity and we'll be in touch to continue the conversation.
About Model 1
A continued drive for innovation and unmatched partnerships. Find out what makes us different.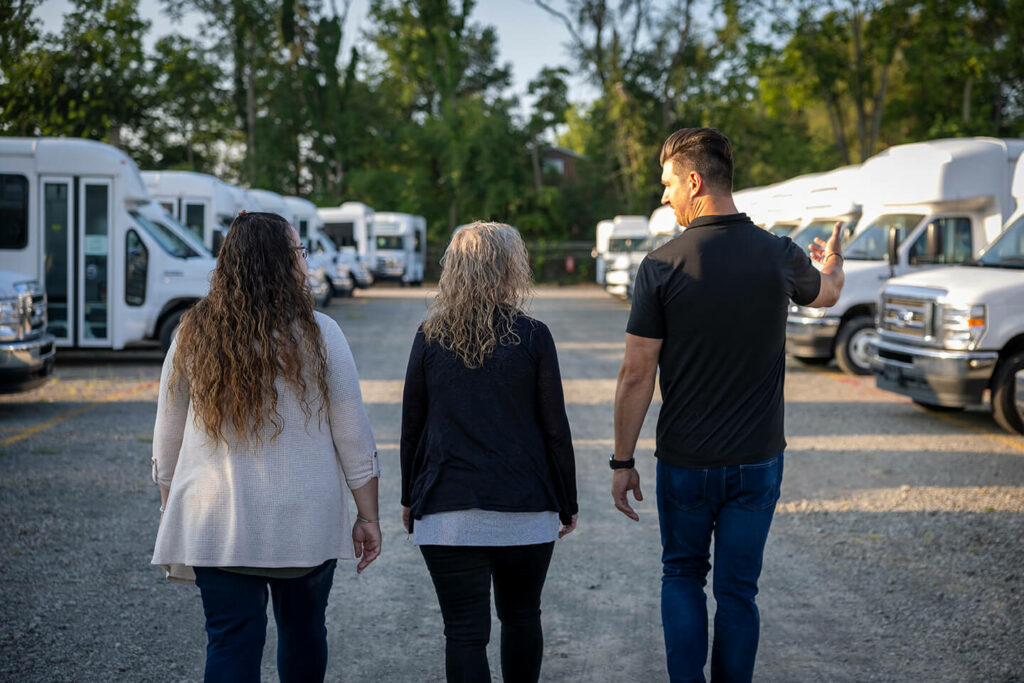 Model 1 Inventory
Explore the largest commercial vehicle inventory in the U.S., from buses to electric vehicles.
Resources
Find product, warranty, industry, and shopping resources to make shopping and ownership easier.