Miscellaneous
Tips for Converting a Bus into a Mobile Business
With the popularization of convenient and easily accessible services, mobile businesses have become a favorite among customers. While the classic service and utility truck can be the most common way to approach this, buses tend to draw more attention and be more memorable.
Of course, there are not many how-to manuals for starting a mobile business with a commercial bus. For this reason, here are some tips to get you started, but feel free to also contact our experienced associates for more information on this unique opportunity. Model 1 is happy to help all patrons across the United States, so call us at (888) 633-8380 today!
What to do with a Commercial Bus?
One may think some businesses are not suitable in converted bus format. However, with the right adjustments, there is a wide range of services that a converted bus can carry out.
Just a sampling of popular options includes, but not limited to:
Apparel stores
Artisan shops
Cosmetics
Craft supplies stores
Food trucks
Grocery delivery
Medical services
Pet grooming and daycare services
Salon services
Tattoo studio
And these are just some of the more popular options. If there's a business or a field you're thinking about breaking into, get creative with what you envision your shop to look like and decide if getting a bus is right for you.
Converting the Bus
The first step of converting a bus into a mobile business is envisioning the layout of your interior to help you figure out what needs modifying.
For example, if you want to own a mobile barbershop, some rows of seats may need to be removed. Additionally, you might need a more robust electrical system to accommodate the electric tools.
If you have lots of personal renovation experience, you might be able to pull off a lot of this work alone. However, for most people, it's better to hire a professional bus conversion company. Not only will this ensure your conversion is done quickly, but also safely. Make sure to research some local specialists and find ones that have experience converting buses.
Choosing the Right Bus
Before hiring the conversion company, you'll need the right bus to get started. Some options are better for businesses, so consider your needs and choose a model that'll help maximize efficiency. For example, smaller buses are more mobile and can be great for accommodating just a few people at a time. If you need to make room for more supplies or looking to have more retail space, a bigger model might be a better choice.
New buses come equipped with the latest technology that provides a safe and reliable platform for your custom mobile business. Unforeseen repairs needed to keep used buses on the road tend to cut into your operating capital and profitability. When you factor in for repair costs, a new vehicle operated during the warranty period has a lower cost per mile compared to used vehicles. A sample of new vehicle warranties offered by Creative Bus Sales include:
5-year/ 100k mile warranty – bus ac, body, and wheelchair lift if equipped
Ford basic warranty 3 year/36k
Ford powertrain warranty 5 year/60k
Financing and leasing options available to businesses
To special order a bus, you need to pick the correct chassis, engine, and custom-build the body to fit your needs. Some of the options you can customize are the windows, seats, entry doors, lifts, deployable ramps, flooring, ac/heater sizes, graphics & wraps, a kneeling feature that lowers the bus front and rear, dividers, and many other items.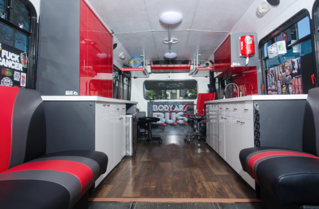 If you decide to look primarily at used buses, be sure there is a predelivery inspection performed with all safety items repaired or replaced. Model 1 performs safety repairs on all buses before delivery. If you're ready to start looking at a new or used bus for sale, check out the models we have available here at Model 1 !
Contact us about any of our options that interest you. We're the largest bus dealer in the United States, so we're confident the perfect bus is waiting for you in one of our lots.